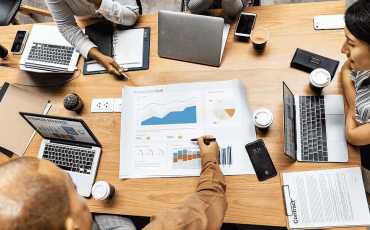 Technology not only plays a very important role in business but is also inevitable in our lives. With each passing day, technology and the role of technology have only improved and developed. The role of technology is very important in our business, education, society, offices, scientific field, medical field as well as our personal and social, and daily life. It helps us to establish a connection with everything around us by supporting various means of communication. Among all the fields let's try to understand the importance and role of technology in business which is not only limitless but is also majorly responsible for the growth, operation, development, and success of any business.
Major Role And Relevance Of Technology in Business
• Technology Is Inevitable For Improving Communication
In any business, without technology, it is not possible at all to establish communication between staff and clients. To communicate with others, companies adopt different software and application. To communicate within or outside the company, many technical aspects are taken into account and as per the requirement, the appropriate ones are adapted. Effective communication is very necessary for the smooth running of any business.
Employees of any business organization need to be well informed about the type of communication which they need to adapt in their company. All the staff should be well-coordinated else there can be a breakdown of a communication system which will ultimately cause hindrance in the company's growth and progress. Some technological ways of communication include video conferencing, phone services, instant messaging, skype, facetime, google meet, zoom call, and webinar to name a few. Business organizations should be prepared enough to handle any type of technological communication crisis.
• Technology Required For Work Efficiency In The Staff
Latest digital and technological equipment and tools need to be provided to the staff which will support them in finishing their task, delivering the desired result and this will lead to increased productivity in not only in an effective manner but also in the right time as desired.
• Endless Supply Of Knowledge
Technology not only provides valuable insight but is also a source of unlimited knowledge, which helps in improving the business. Various search engines and websites contribute immensely to research work or in locating things when required. With the insight and knowledge of technology, the staff of any company is able to handle the queries and doubts of the customer efficiently thus leading to a good relationship between the company and the client. Technology also helps the companies in knowing about their competitors and thus improve and update themselves to keep up with the market trend.
• Technology Increases The Efficiency Of The Company
The advancement and development in applied sciences and robotics have immensely contributed to facilitating the growth of the business. Better and wider use of technology can be made by companies due to the emergence of artificial intelligence. For example, a client's query can be dealt with in a chat box rather than by a physical person, thus saving time and effort in assigning the same.
• It Helps In Exploration of New And Prospect Market:
The emergence of so many new technological gadgets has helped the companies tremendously to make use of the relevant gadgets to help them in carrying out search operations for new markets for expansion leading to the profitable growth of the company. Technology can be used for forecasting, conducting complex calculations, and providing authentic and genuine results. Thus making it easier to make a decision whether to go ahead with the selected choice and plan of action or not. Ultimately the future and growth of the business depend upon it.
• Technology Contributes In Expansion Of Business
Investment in technological spheres like artificial intelligence, automation is an expensive affair but nevertheless, it's worth investing, as this is one of the most important factors behind the success of any company. The adaptation of this latest technology helps it in competing with other similar companies and stand out with an improved reputation. This also makes them visible in the eyes of the clients and customers thus helping them prosper and expand their business.
• It Helps In Increasing Business Capacity
Due to the advancement in technology the business organizations are able to cater to more clients than before as they are able to reach more customers in lesser time. Again, the coordination between the company and client and the company and the supplier also becomes better and faster. The capacity to store information, restoring supply and demand-supply inventory, communicate, etc. becomes very easily accessible and manageable.
• Technology Paved The Way For Cryptocurrency
Cryptocurrency is an encrypted and digital medium of exchange used to control the creation of multiple monetary units. Its existence is enabled due to the technology of blockchain which is a digital ledger that maintains all the transaction records of online money transfers. In the digital market, the most popular cryptocurrency is bitcoin. Due to this advanced technology, it has been possible for companies all over the world to do safe and secure digital transactions with a maintained detailed record of the same.
• Data Protection Through Cybersecurity Defense Systems
The threat of cyber attack is one of the biggest risks which business organizations are facing and the rate of it is increasing day by day. Thus cybersecurity defense system is being designed by technicians who protect and safeguard organizations from dangerous threats. Protection of their important and online data is an important concern and can be done by enhancing the security of these accounts.