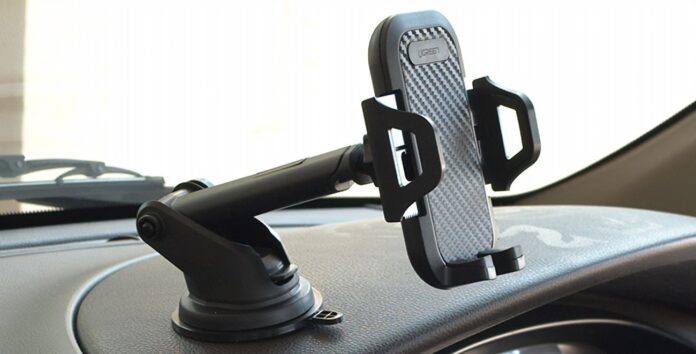 Smartphones have become an essential part of our lives. The most convenient way to handle a smartphone while driving is to settle it on the car phone holder attached to the dashboard, windshield, or air vent. This facilitates the user because the phone is in sight, and the jobs can be significantly done. Car phone holders have emerged to be an essential accessory ever since the dependency on smartphones has exponentially grown. From the safety point of view, a car phone holder is necessary too since more than half of our engagements have shifted to phones.
While driving, the smartphone is demanded to be safely and tactfully handled since driving is a nerve testing game. Thus car holders carry the additional incentive of safety. To find more about car phone holders, visit UGREEN's website.
Different types of car phone holders are available in the market. The options given below will help you narrow your search.
Types of Car Phone Holders available in the market
1. Magnetic Sticky Dashboard Phone Holder
This ensures a safer and hands-free drive. Together with magnets and a powerful adhesive, this holder sticks to the dashboards maximizing stability. The minimalist design and infinite flexibility add more to the features of this holder. It is extremely small with a 360-degree rotation ball that allows it to tilt and rotate freely. The best feature of this car phone holder is its universal compatibility.
2. Suction Cup Car Phone Holder
This sort of phone holder is universally compatible. It comes with the feature of 360-degree rotation that solves orientation issues. It is super easy to install with a sturdy suction cup which is even washable.
3. Windshield Car Phone Mount
As the name indicates, this phone holder can also be attached to the windshield. It can be used for both windshield and dashboard because of its strong suction cup. It comes with a telescopic arm that helps adjust the angle and facilitates you to find the best viewing angle. It is super easy to use. The UGREEN suction cup phone holder as the washable suction cup securely sticks to the windshield.
4. Car Air Vent Phone Mount
This is a sturdy car phone holder with super easy, tool-free installation. It can be easily mounted in a few seconds. The unique feature of the UGREEN air vent phone holder is its free ball joint design which ensures its free rotation, thus facilitating the orientation of your choice. Apart from being highly compatible, this quirky holder offers a reserved charging port that enables the user to plug the charging cable into the phone even when the phone is attached to the holder. You can buy this car phone holder from UGREEN's website.
Conclusion
A car phone holder is an amazing yet essential accessory. Many different types of car phone holders have been introduced in the market with their rising demand. Other than the amazing products described above, there is a large variety of different types of car phone holders on UGREEN's website, so you can choose according to your convenience. They provide excellent quality and durability. The designs they offer their customers are unique, highly compatible, and engineered with up-to-date technology.
So if you enjoy traveling by car, these car phone holders are the best and most affordable choice for you!