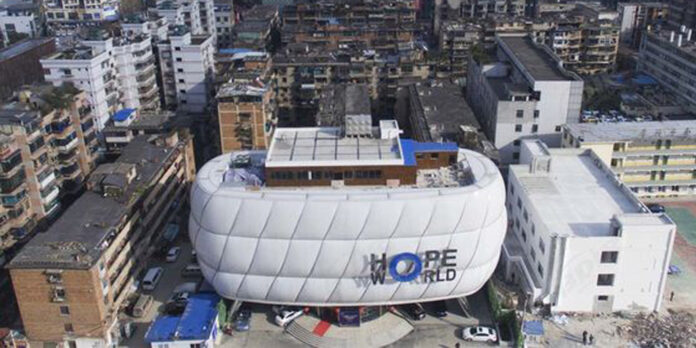 Wondering about an infrastructure that serves both comfort, and functionality of modern architectural designs? When it comes to etfe panels structure it actually serves both. ETFE structures are environment friendly plastics. That provides heat resistance, chemical resistance in the infrastructure. This membrane is very safe and provides safety from electricity as it is a polymer based structure. It can withstand up to 50Pa of weather pressure. In areas of extreme weather conditions or in places where it is a necessity to carry on events unchallenged by weather problems like rain, heat and cold wind; ETFE Air Cushions serves their purpose. They are beautiful and also substantially protective for the roof. Due to their weather proof qualities such structures provide safety blanket to the building. Therefore the building could will not wear and tear by weather.
ETFE AIR CUSION'S SPECIFICATIONS
The membrane material is available in variety of ranges which include PVC, PVDF, PTFE and ETFE. ETFE are available in any customized color and the default white color. This Air Cushion will serve the aesthetic personality of the building and therefore it is available in customized shapes such as Arc, Barren Vault, Hypar, Cone, Dome and Umbrella shapes. There is a reason that it best for your beautiful infrastructure. It comes in customized sizes, with a convincing warranty time of 10-35 years. The functionality and beauty both will be served with this innovative technology of ETFE Air Cushion system façade. It will be delivered within 30 days of order placement confirmation. This infrastructural advanced technology will be delivered across the globe in an extremely safe shipment. This system is authenticated by ISO 9001 certification, MSDS, CE, BV, TUV, and SGS.
ETFE AIR CUSHIONS SYSTEM FAÇADE APPLICATION
Sports Facilities

There is an acute necessity of these ETFE panelsroof structures in sports fields. The weather umbrella provides time savvy technology to withstand all weather problems that are thrown in sport's tight schedules.

Commercial Facilities

Restaurants and Malls are modern day architects where people love to spend time with family and friends. These exotic venues must be aesthetically appealing for people. The attractiveness that ETFE Air Cushions serves, in such venues will be inexorable and enticing.

Industrial Facilities
Ware Houses, Factories, logistic centers These are cocoon of health and safety problems. These ETFE Air cushions will be handy to save the weather trouble and since it can be tailored in any shape, Warehouses and Logistics will be specially benefited. These can be customized to avoid crane,  heavy machinery accidents and electrical accidents that could have either by the internal heavy machinery or safety of electrical networking in such areas. Lastly ETFE Air Cushions Façadewill provide safety to products and goods from weather which plays an important role on the productivity of the facility.
Transportation Facilities
Gas stations, Air Ports, train stations and all other public transportation facilities required safety from extreme weather conditions. This is not all if a facility is cleaned from rain water, heavy wind, it will remain clean and hygienic. This weather withstanding beautiful ETFE panels Air Cushion Façade serve purpose of functionality of these places.