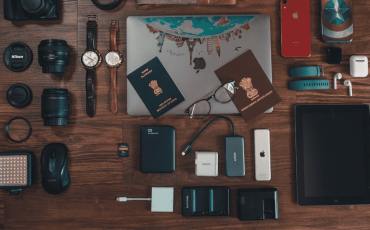 The impact of modern technology in every aspect of the world and our lives is noticeable and we wholeheartedly appreciate that. The effort and barriers we had faced in many things some years ago, today we can do that very easily and it does not much time to complete and access, all thanks to the technology. It became a very essential part of our life as it has elevated our lifestyle to a new limit and spending a day without modern technology is a very hard thing to do. Sure, you can do it for one or two days but cannot leave it completely.
Modern technology helped us to develop the whole world and human society with many modern solutions and it also impacted our travel experience with some smart facilities. Nearly every people around the world would love to travel to different places to explore new things and for a change from their daily monotonous life. It is also very good medicine for the health of our mind and body. It provides you the freshness and energy you might need to tackle your daily work life. Before modern technology, traveling was not so easy and we had difficulties executing proper travel planning and implementation. But, now you can do it very easily with the assist of modern techs.
There are some ways that modern technology is impacting our travel experience to make it easier and enjoyable. We will discuss them over here.
Planning is more convenient than ever
Back in the day, planning for an upcoming journey was a very stressful and time-consuming thing. We did not have internet and even after getting it, the accessibility of internet was limited and the speed was very slow if you compare it with present days. So, when we needed necessary information about a certain trip, we had to rely on some specific books, paper maps, or any person who knows about the place or visited it that where we are about to go. However, only the experienced people were able to share valuable data on traveling if you can find a person like that in your surroundings. Well, it was a hectic and time taking drill to collect data and plan, earlier, for your trip.
Nevertheless, today, anything you need to know about some specific thing of traveling or the place you would like to visit, you can get all the data from the internet. Smartphones and PC along with Internet connection is a household thing nowadays. So, you do not need to go anywhere else or ask any person to gather data to map your trip. You can do this sitting in your house very quickly. And even if you feel for any suggestion, you can take the services of any travel agency or ask any known person who travels a lot over social media. Sudden plans for any trip are also a normal thing today because of the technology.
The journey becomes entertaining with less luggage
A single backpack and a traveler is one the most suitable way of travelling. You can find many travelers with this combination which makes it easier to travel only with the essential commodities. The fewer things you carry with you in your bag, the less weight you have to bear when you go on a memorable trip. There is no doubt that technology has opened ways to travel with less luggage. Packing is a very boring and annoying thing that we have to do before any travel. We used to take all the important things one by one that we felt is important to carry.
Technology provided some solutions to that part as well. We carry our modern mobile phone with us and even a laptop for work and entertainment purpose. So, we do not have to carry things like books, iPods, or walkmen to read or play music on the way to our destination. We can read e-books or any other thing from our phone and many different music streaming sites are there to play music. Even, we can carry digital documents with the smartphone which we usually need for traveling.
Easy availability of many things in most of the places is influencing us to leave things that are not so important and we can buy them if needed. Now packing is more fun and takes less time to do it.
Bookings for a trip is very easy
In order to travel, we need to book flights, hotels, cars or buses to make our trip a comfortable one. If we book things some days earlier or months before the start of our travelling journey then it will help us to travel without a worry of booking major things on the trip. It also saves you some money because prior bookings of flights and hotels can come cheaper and with some sort of discount offers. All thanks to the technology of smart devices and the internet, we can book things in a matter of minutes from our phone or PC.
There are many platforms available online where you can find some of the best modes of travel and accommodations that you would prefer within your budget. You can compare many offers, prices, quality, reviews, etc from different sites and services. If you want to do any certain activity on some places you are going to visit, you can book them as well before your travel. And you can have all the booking slips or e-tickets on your phone to show them. One of the major things it provides us that, in an emergency, you can travel in any place with quick bookings. You do not have to wait for it.